Patio Features and Decor
There are many considerations when it comes to choosing patio furniture and accessories.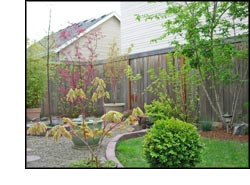 1. Patio Furniture comes in a variety of shapes and sizes. Common materials include rattan, resin, wicker, metal and wood. Chaise lounge chairs, loveseats, coffee tables and patio tables with umbrellas.
2. Consider a few container baskets or large planters. Plants help to provide an attractive outdoor space. This is also an excellent time to install an irrigation system for hassle free watering.
3. Consider incorporating features to attract birds to your yard. Placing a bird bath or feeder nearby can help achieve this.
4. Water features are also very attractive. There are even small kits available that include everything you need to create your pond or fountain.74BBDF